So this month I joined the awesome new blog

Wood You Like To Craft

! It is run by 4 fantastic bloggers with the aim of giving a monthly woodwork project for people to follow along and make... and then to share in a link-up party!
This month the project was hosted by

Under My Umberella

, a blog I have loved for some time! I was totally excited to join in... I have never worked with wood before and thought this would be a great way to push myself to give it a go and learn how. The first project was to come up with your own variation of this beautiful sign.
(source)
So with a drumroll........
Here is my First Ever attempt at cutting out wood and using mod podge!!!
Haha, I had a blast... and a few frustrations and headaches! My Cutting out was totally dodgy, and I had to re-do my mod podged napkin so many times. In the end I think it came out ok though. I also made my own sign holder since I had no where to hang my sign. Now I can stand it up next to my front door. I used a 'D' (for my last name) on mine as I live in a block of flats and have no house number. So anyways.... if you wanted to copy my rough around the edges project, here is the tutorial...
1. I printed out the sign template from Under My Umberella.
2. I wanted to make mine more rectangular so I just traced around the template at each end of the wood, and in the middle. I hope this picture shows what I mean.
3. I did a ver dodgy attempt at cutting out but I guess it turned out ok. After a good sand down it was alright... haha you should have seen it before I sanded it! Totally Wonky!
4. I cut out a smaller version of the shape from this beautiful pink napkin with white butterflies and flowers.
5. I painted the sign white!
6. I mod-podged the napkin on. You can't get mod podge glue in Germany so I used what I thought would work the best. I guess it worked ok. TIP: For other first timers like me.... After much trial and error I found that the best method of gluing was to place the napkin on the wood with a dry surface (no glue underneath) and to work from the middle out with my finger covered in glue, smoothing out the bumps gently as I went along. Also, I learnt you should only use the top layer of the napkin.
8. Finally I made my sign holder. I used a piece of wood which had been cut out for fences I think. It cost 75 cents. I stuck a block behind and in front with hot glue to help it stand, and added a white wooden peg to hang on.
I like it. Not bad for my first project. Have a great day!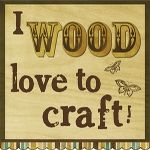 This tutorial has been linked up to many AWESOME Parties, too many to link to here.
Visit my
Linky Party Page
to check them out!